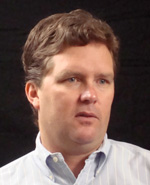 Thomas Dewell
Co-Editor, Jackson Hole News & Guide, Jackson Hole Daily
Jackson Hole, Wy
[WY-E 0201]
---
I was a court reporter – and you've got to decide if you're going to use this or not – and this really opened my mind to the power of journalism.
I was a court reporter, sitting in the Justice of the Peace Court, and a woman I knew had – I think she came in for her second DUI – and I was talking to her. She was very nervous.
She offered a sex act to me if I would not put it in the newspaper – her DUI in the newspaper – because she didn't want her family to know about [it]. And I told her, I couldn't do that, and that maybe her family should know about it – if it had gotten this bad.
And that's when I realized – wow – what you do has broad effects on people's lives. And what people will do or won't do to change the course of that.