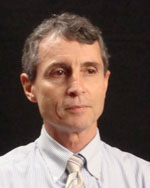 Mike Arnholt
Executive Editor
Mike Arnhold was named executive editor at the Fayetteville Observer in 2009. He joined The Fayetteville Times in 1978, working as a copy editor, copy desk chief and features and was named managing editor when the Times and Observer were merged.
Arnholt came to Fayetteville in 1974 as a soldier reassigned from South Korea to Fort Bragg, where he served with a public information detachment in the 1st Corps Support Command.
[NC-E 0201] - Epiphany XLII: Mike Arnholt, executive editor, The Fayetteville Observer, Fayetteville, N.C. (1:40)
After reading correspondence from the parents of American soldiers whose stories were told in The Observer, Mike Arnholt knew his newspaper was fulfilling its mission. The newspaper had filled a vacuum in the parents' lives.