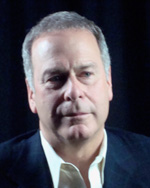 Brian Greenspun
Publisher & Editor
Brian Greenspun is publisher and editor of the Las Vegas Sun, founded by his father, Hank Greenspun, in 1950. He is also chairman of the Greenspun Corporation, responsible for his family's business interests, which include real estate development (American Nevada Corporation), the city travel site (VEGAS.com), print and online publishing (Greenspun Media Group, the largest magazine publisher in Nevada) and luxury city magazines (Niche Media Holdings).
Greenspun has bachelor's and law degrees from Georgetown University, serves on the University of Nevada, Las Vegas Foundation and the Board of Trustees for The Brookings Institution.
[NV-E 0101] - Epiphany LXVI: Publisher & Editor: Brian Greenspun, The Las Vegas Sun. (3:52)
Brian Greenspun is reminded of the impact of his newspaper when new business owners come to Las Vegas and invariably visit the publishers of the city's newspapers. He also sees his newspaper as a means for ordinary citizens to find a platform they might not otherwise attain. "People who have nowhere else to go," says Greenspun.