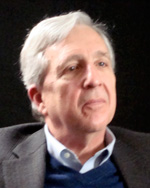 Miles Forrest
Publisher
Since 2000, Miles Forrest has been the Publisher of both The Courier in Houma, La., and The Daily Comet in Thibodaux, La. Forrest, a Thibodaux native and graduate of Nicholls State University, began his newspaper career in 1973 at the Houma Daily Courier. He has worked for The Courier or The Daily Comet in a variety of positions ever since.
Forrest is a past president of the Louisiana Daily Newspaper Association, the Louisiana Press Association, and the Louisiana Press Association Foundation.
[LA-E 0101] - Epiphany LVI: Publisher: Miles Forrest, The Courier, Houma, La. (2:31)
Miles Forrest was working on the business side of his newspaper when he helped a reporter "shine a light" on a community problem. The experience helped shape his understanding of the importance of what his newspaper did.