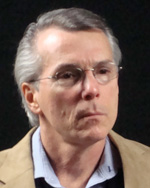 Zach Ryall
Online, Managing Editor
Zach Ryall is a 1976 graduate of the University of Texas journalism program and has been working for the Austin American-Statesman for 34 years. He started his professional career with the Statesman shooting Friday night football and soon became a full-time staff photographer.
After ten years of shooting, he became the director of photography, managing the visual report and the transition from chemicals and film to the digital world. Since 2008, Ryall has served as the online managing editor for statesman.com and austin360.com, the news and entertainment Websites of the Statesman.
[TX-E 0302] - Epiphany LX: online, managing editor: Zach Ryall, The Austin American-Statesman, Austin, Texas (3:03)
Zach Ryall, a photojournalist who runs The Austin American-Statesman's websites, recalls a multi-page spread of photos and enterprise journalism that captured the tragic episode in the life of a Texas woman. The photos and text produced by the newspaper were subsequently used to fight drunk driving. Text and pictures, he says, no other institution would have created.