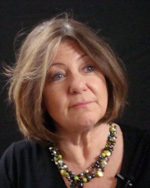 Ginny Sohn
Associate Publisher
Ginny Sohn is the associate publisher at The Santa Fe New Mexican. She has held this position for 5 years and prior to that she was the advertising director. She began her career in publishing in 1974 in New York City working for Conde Nast Publications. After relocating to Santa Fe, NM she began working for The New Mexican while it was a Gannett paper and in the mid-80's was promoted to ad director at the Reno Gazette Journal. In 1989 she returned to The New Mexican as ad director and later that year the paper once again was back to independent ownership.
Sohn holds a Bachelor of Science in Business Administration and Management from the University of Phoenix. She and her 15 year old son Sage live in Santa Fe and he recently co-starred in the musical "Guys and Dolls".
[NM-E 0101] - Epiphany LXII: Associate Publisher: Ginny Sohn, The Santa Fe New Mexican, Santa Fe, N.M. (2:37)
Ginny Sohn was reminded of the power of her newspaper when a local Hispanic man came to the defense of his community at a public forum by referencing a letter, written to the newspaper by a high school boy. The lesson that letter conveyed held the day when an out-of-towner started bashing New Mexico.