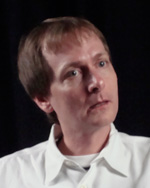 Rob Curley
Senior Editor, Digital
Rob Curley is senior editor of the new-media division of the Las Vegas Sun and Greenspun Media Group. He joined Greenspun in June of 2008. Prior to heading to Las Vegas, Curley was Vice President of Product Development at Washingtonpost.Newsweek Interactive for two years and director of new media and convergence for the Naples Daily News and its sister publications along Florida's Gulf Coast.
From 2002 to 2004, Curley held management positions in the interactive operations and editorial departments for the Lawrence (Kansas) Journal-World. He gained national attention when he became one of the first online editors in the nation chosen to lead a news organization's entire print and broadcast news operations. From 2000 to 2002, Curley was new media director for the Topeka (Kansas) Capital-Journal.
In 2001 the Newspaper Association of America named Curley the industry's New Media Pioneer of the Year, making him the youngest person to win the award. Curley's groundbreaking work has been documented in college journalism textbooks, industry and mainstream magazines and white papers, and a 20-minute segment on National Public Radio's Morning Edition.
[NV-E 0301] - Epiphany LXVIII: Senior Editor, Digital: Rob Curley, The Las Vegas Sun. (2:36)
Rob Curley was thrilled when a newspaper reader recognized him early in his career and asked him to talk. But he soon realized what concerned this reader was an issue he had not fully weighed in his concept of how the public engaged with his newspaper.