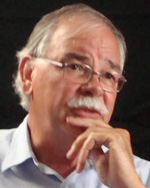 Mike Jacobs
Editor & Publisher
Mike Jacobs has been editor of the Grand Forks Herald since 1984 and editor and publisher since 2004. He grew up milking cows near Stanley, N.D., was graduated from the University of North Dakota and has worked as a farm laborer and a bar tender. His career in newspapers includes stops in Dickinson, Mandan and Fargo, N.D. The Herald won the Pulitzer Prize for Public Service after the Red River flood of 1997. Jacobs was named editor of the year and won ASNE's distinguished writing award for his flood-related editorials.
[ND-E 0101] - Epiphany C: Editor & Publisher: Mike Jacobs; The Grand Forks Herald, Grand Forks, N.D. (2:10)
Mike Jacobs had an early epiphany when he was a cub reporter in Dickinson, N.D. He covered a combined city council, county commissioners meeting at which the commissioners did not come prepared. When he reported that fact the next day, one of the commissioners called him and said another meeting had been scheduled, and "he was bringing his books." I learned "the value of writing something down and sharing it," says Jacobs.