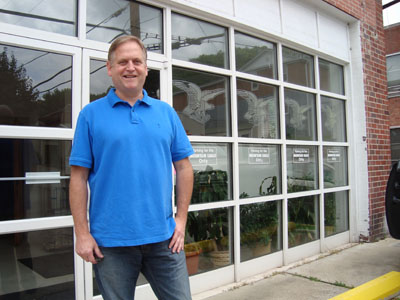 Ben Gish, the editor and acting publisher of The Mountain Eagle, outside the weekly newspaper's office in Whitesburg, Ky., in July 2010.
Summary
"It Screams!" is the motto of The Mountain Eagle, a weekly newspaper in Whitesburg, a small community tucked into the corner of southeast Kentucky.
The Eagle has been screaming ever since Tom and Pat Gish took over the newspaper in January 1957. Pictures and awards line the hallways of the newspaper's office, commemorating the struggles and successes of this family-owned operation in a county dominated by the coal mining industry.
One of the office postings is a quote from Mother Jones: "Pray for the dead and fight like hell for the living." This call to action embodies the Eagle's mission.
Both Tom and Pat Gish were trained reporters, accustomed to covering town and county government meetings when they came to Whitesburg, but this oversight had not been the custom in Letcher County and an ordinance was passed banning the newspaper from attending key meetings. The Gishes didn't give up. While presenting the Eugene Cervi Award from editors to the Gish family, at 2010 International Society of Weekly Newspaper Conference in Richmond, Ky., Tim Waltner, publisher, Freeman (S.D.) Courier, summed up the Gishes' persistence:
The Eagle covered and challenged school boards that didn't care about children, county governments that regularly failed the public, and economic development 'experts' who mostly developed their own incomes. The Gishes wrote about strip mining and the Tennessee Valley Authority's role in it, coalmine health and safety, and the malfeasance of local, state and federal officials.
Because Tom and Pat Gish spoke truth to power, their family was ostracized. The Eagle was subjected to threats, advertiser boycotts, and even a firebombing (after which the family defiantly changed the newspaper's banner to: "It Still Screams!"), wrote Phil Primack in the Columbia Journalism Review.
Tom Gish died in 2008 and Pat Gish, publisher of the Eagle, has Alzheimer's. These days, their son, Ben Gish, editor, runs the weekly with help from four full-time employees (including Ben's brother-in-law, Freddy Oakes, and Ben's niece, Sally Barto), two-part time employees and a host of community volunteers.
To further honor their overall contribution to journalism, the Institute for Rural Journalism and Community Issues presents an annual Tom and Pat Gish Award for courage, integrity and tenacity in rural journalism.
Check This
The Eagle's editor and acting publisher, Ben Gish, grew up in the newspaper. Before he went to school he helped fold the newspapers, with his siblings, before the papers were circulated. When he was a teenager, a police officer tried to frame him for the arson attack that burned his family's newspaper. He tells what happened in "The Story of The Mountain Eagle." Click on the Ben Gish interview to learn about the challenges of running a weekly newspaper and the role the community plays in its ongoing success.
-- Sara Brown & Paul Steinle