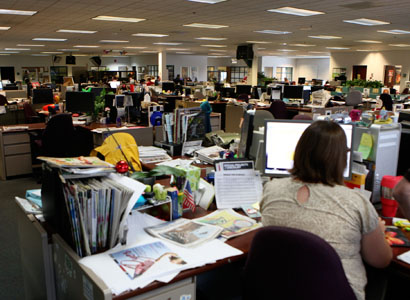 The NWI Times employs 54 staff writers, six photographers and 31 editors, according to NWI Times Executive Editor, Bill Nangle. The newspaper is the second-largest daily newspaper, in circulation, in Indiana.
Summary
In 2008, The Times, a regional Lee Enterprises newspaper in Munster, Ind., serving 57 communities in northwest Indiana and the southeast Chicago suburbs, was named the fastest growing English-speaking daily newspaper in the United States. According to the Times Media publisher's office, circulation revenue has also increased 16 percent since 2008 (see Backgrounder).
The Times' niche is local news and information. "It tells stories about people – the fantasies, threats, pride and pain, clubs and cliques, work and play, wins and losses, wonder and revulsion, youth and age, beginnings and endings – everything that is local and much more," says The Times Media Center mission statement.
Coined the "Munster Model," according to Bill Nangle, executive editor, The Times produced eight zoned-editions to cover a diverse market of more than three-quarter million people not well served by Chicago media. The Times now serves its market through four zoned-editions, the nwi.com and my.nwi.com websites, and numerous niche publications, including a weekly Hispanic newspaper.
Publisher, Bill Masterson, Jr., describes several strategic, entrepreneurial changes the newspaper has pursued to leverage its existing skills and resources. Times Media offers ad pagination and design services for other newspapers and in-bound circulation call-center services for 10 other newspapers. To a "what changes didn't work?" question, Masterson cites "Sunday Select," a program to distribute packages of inserts to non-subscribers on Sundays. Masterson says non-subscribers simply "didn't want" the inserts without a newspaper.
Check This
Masterson reports that to strengthen its ties to younger readers, The Times has entered into a year-long experiment with Calumet High School in Lake County, Ind., a "New Tech" school. Six hundred students have signed-up to tell The Times how they want to receive credible news and information. Part of the experiment is to determine if young people are trainable to "understand the differences between credible and non-credible information." Chris Loretto, director of interactive media, product development and marketing, describes The Times' work as beta site for a Lee Enterprises total content management system (TCMS) – a system that integrates articles, videos, photos, graphics and other content into a single system.
-- Sara Brown & Paul Steinle