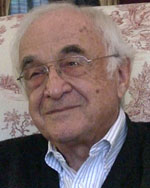 Philip Meyer
Professor emeritas, University of North Carolina. Author: "The Vanishing Newspaper"
Philip Meyer noticed the decline of newspapers in the 1970s when he was a Knight Ridder Washington correspondent specializing in public opinion measurement. He spent part of his Washington time on newspaper research, and was posted in 1978 to company headquarters in Miami to attack the problem with a centralized study of news and circulation issues.
Three years later, he moved his inquiry to the University of North Carolina at Chapel Hill and collected his Knight-Ridder work in "The Newspaper Survival Book"(Indiana, 1985). Still on the case, he analyzed the causes and effects of newspaper decline in "The Vanishing Newspaper" (Missouri, 2004, 2009).
Meyer holds degrees from Kansas State (B.S. 1952), Chapel Hill (M.A. 1963) and was a Harvard Nieman fellow (1967). He is a past president of the World Association for Public Opinion Research, and, in retirement, lectures in the USA and abroad on journalism's prospects.
[Bonus 0401] - Part 1: Quality's Role In Newspaper Success (9:07)
Philip Meyer, author: "The Vanishing Newspaper," says that he did not predict that newspapers would die in 2040, as some have deduced from a casual reading of his book. He sees a more complex future for newspapers, depending on their ability to innovate and earn income from digital news products.
[Bonus 0402] - Part 2: The Future of Newspapers (3:45)
Philip Meyer, author: "The Vanishing Newspaper," says he is convinced that newspapers that experiment and still maintain high quality stand the best chance of surviving in the new media landscape.