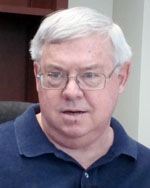 Rick Edmonds
Media Business Analyst & Leader of News Transformation, Poynter Institute
Rick Edmonds is media business analyst for the Poynter Institute where he has done research and writing for the last ten years. Since December 2007, his commentary on the industry appears in The Biz Blog on Poynter Online. He has also been co-author of the newspaper chapter in all seven editions of the Project for Excellence in Journalism's State of the News Media report 2004 through 2010, and is working on the 2011 report. He is frequently quoted in articles on newspaper economic issues and new business models and has provided comment in the New York Times and on numerous NPR reports.
Edmonds spent 11 years with the St. Petersburg Times organization in various editor and publisher roles, including two years as managing editor of the paper's Tampa edition. Earlier in his career, he was James Reston's assistant at the New York Times and a reporter at the Philadelphia Inquirer where he was a finalist for the Pulitzer Prize in national reporting in 1982.
[Bonus 0501] - Part 1: Newspapers' Digital Revenues (8:43)
Rick Edmonds, business analyst, The Poynter Institute, says the prediction newspaper advertisers would eventually move much of their advertising to newspaper websites, during the first decade of the 21st Century, has not been realized, and that digital revenues are averaging about 8-10 percent of gross revenues across the newspaper industry in 2011. Edmonds says the economic value of establishing pay-walls to require payment for access to newspaper websites is also still being debated across the industry.
[Bonus 0502] - Part 2: Revenues & the Newsroom (7:01)
Rick Edmonds, business analyst, The Poynter Institute, says he believes a transition from print to the 100 percent delivery of news through digital channels for many newspapers is "unlikely in the next couple of years." But he says perhaps the trend could accelerate in "the next 5-10 years." Despite losses in revenues and circulation, Edmonds says "most [newspapers] have tried to preserve the[ir] watchdog function."