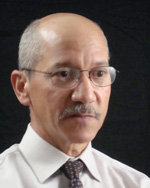 Pedro Rojas
Executive Editor
Pedro Rojas is executive editor of La Opinión and a member of the company's executive committee. Rojas also oversees the daily's Web page, which is one of the main content generators for the holding company ImpreMedia's portal site. He's a seasoned journalist with more than 30 years experience in the newspaper business, the last 12 in upper management. From 2004 to 2005, Rojas served as executive editor at El Diario/La Prensa. In the last three years, La Opinión's journalists have received numerous awards from NAHP, NAHJ, NAM and others, including the @ Award for the best Spanish Web page in 2007.
Before joining La Opinión in 2003, Rojas worked at El Nuevo Dia for 27 years, in San Juan, Puerto Rico, the last six as managing editor.
[CA 0201] - Part 1: Intro and Contribution (4:33)
Pedro Rojas, executive editor, La Opinión, has been with the newspaper since 2003 and became executive editor in 2005. Rojas entered journalism by chance when his father, a former journalist, recommended him for a job. "La Opinión has been the voice of the Latino community in Southern California and also throughout the United States," Rojas says. "Because we cover major events in the U.S. from the Latino perspective. That's why we have the trust of the community, " says Rojas.
[CA 0202] - Part 2: Ethics and Content (3:02)
Pedro Rojas, executive editor, La Opinión, says, "this paper is like any other newspaper in the U.S.; only we publish in Spanish." Rojas says La Opinión has an editorial board and endorses candidates, "something that is unknown in Latin America." "We follow the standard rules for journalists in the United States," says Rojas.
[CA 0203] - Part 3: Strategic Changes (3:47)
Pedro Rojas, executive editor, La Opinión, says there have been a lot of changes at his newspaper in recent years. Overall the newspaper has been "out sourcing operations that don't have to be in L.A." "Our pages are designed in Mexico," says Rojas. "So basically what we have in L.A. are the content producers." And the La Opinión website is much more up to the minute. "Five years ago we updated once or twice a day," says Rojas. "Right now, we update 22 hours a day."
[CA 0204] - Part 4: Adaptation & the Future (3:13)
Pedro Rojas, executive editor, La Opinión, says, "For me what has changed is the technology … the journalism is the same. The tool doesn't define what we do … we use the tool to help us." The news is delivered faster, but Rojas strives to maintain its quality. "This is something I insist," says Rojas, "Faster with the same quality. Faster doesn't mean you don't need to be careful," says Rojas.
[CA 0205] - Part 5: Prospects & Preparation (1:35)
Pedro Rojas, executive editor, La Opinión, says if you want be a journalist "you need to love this." "You don't become a journalist because you want to be famous or rich," says Rojas. "You need to love it, and you need to love making a contribution to society."