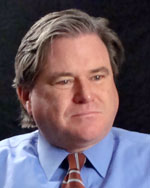 Timothy Dwyer
Executive Editor
Timothy Dwyer became Executive Editor of The Day in July 2007. He began his career at The Boston Globe while a student at Northeastern University. After seven years at the Globe covering everything from cops to politics, Dwyer joined the staff of the Philadelphia Inquirer. He received the George Polk Award for national reporting, along with colleague Robert Frump, in 1983 for a series of investigative stories on the U.S. maritime industry. He served as deputy sports editor, a general sports columnist and sports editor. His work has appeared in The Best American Sports Writing literal anthology.
Dwyer covered three Winter Olympics games, the World Series, the Super Bowl, the Stanley Cup Finals, the NBA playoffs, the NCAA basketball tournament, the Ryder Cup, the America's Cup and World Cup skiing. After 20 years at the Inquirer, he became a metro reporter at The Washington Post. Dwyer covered President Bush's second inauguration, Hurricane Katrina, the Virginia Tech massacre, and the trial of the only terrorist convicted in connection with 9-11, Zacarias Moussaoui.
[CT 0201] - Part 1: Intro and Contribution (3:53)
Timothy Dwyer, executive editor, The Day, broke into the newspaper business working "the lobster shift" – midnight to 8 a.m. – for The Boston Globe. "Democracy does well with the bright light of scrutiny shining on it," says Dwyer. "If The Day were not here, that light would be extinguished."
[CT 0202] - Part 2: Ethics & Content (8:12)
Timothy Dwyer, executive editor, The Day, says, "If there is a perception of a conflict of interest" in selecting an enterprise story for The Day, "we don't do it." The Day has also set forth standards for monitoring anonymous comments from readers via email, but Dwyer says the situation is "a huge can of worms." "The web has replaced the picket fence as a place where people can talk to each other," says Dwyer, but sometimes readers' emails touch "the third-rail of commenting."
[CT 0203] - Part 3: Strategic Changes (5:27)
Timothy Dwyer, executive editor, The Day, says he and his editors developed a plan to organize "a perfect newsroom" with emphasis on local news, online infrastructure and watchdog journalism. As a tradeoff, the newsroom prioritized its operations and eliminated dedicated feature reporters.
[CT 0204] - Part 4: Adaptation & the Future (6:00)
Timothy Dwyer, executive editor, says reporting candidates should prepare to "bring your curiosity to work every day … and your passion and you're going to find stories and [The Day] will supply platforms to tell them." In the past, Dwyer says, newspapers decided "what people should want and how they should get it. Now we've learned we have to get it to them the way they want it."