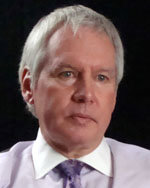 Gary Farrugia
Publisher
Gary Farrugia became Publisher of The Day Publishing Co. in January 2002. Before arriving in New London, Farrugia worked 18 years at The Philadelphia Inquirer. In 1991, he led a reporting team that was a Pulitzer Prize finalist for coverage of the death of US Sen. John Heinz and seven others in a mid-air collision above a crowded Philadelphia schoolyard.
In 1994, Farrugia became News Director of Inquirer News Tonight, a nightly newscast that aired on a local Philadelphia broadcast television station. In 1996, Farrugia returned to the newspaper to head KR Video, a television documentary production company. KR Video produced documentaries for CNN and PBS including Black Hawk Down, which later became a best-selling book and major motion picture.
In 2000, Farrugia was named Vice President for New Business Development at The Inquirer. There, he managed five subsidiary companies including KR Video, Database Marketing, Broad Street Custom Publishing, News Research, and PhillyTech Magazine.
[CT 0401] - The Story of The Day (2:24)
Gary Farrugia, publisher, The Day, tells the unique story of this newspaper, owned by a non-profit trust, which systematically invests a portion of The Day's profits to improve life in the New London community.