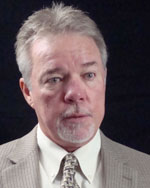 Ed Dulin
President and Publisher
Ed Dulin is the corporatepresident of Independent Newspapers and publisher of the Delaware State News. He started as circulation district manager of the Delaware State News in 1970 and transferred to Arizona in 1974, where he became group president of the company's Phoenix suburban network. He later returned to Delaware to oversee the Delmarvaoperations and corporate services office.
His experience includes every department of the business, newspaper start-ups, frequency changes, marketing commercial web printing, and helping to develop the company's market strategies. He served as a team instructor in Bulgaria as part of the International Media Fund's effort to promote a free press in Eastern European countries. He is a past president of the Arizona Newspaper Association, Suburban Newspapers of America, and the Suburban Classified Advertising Network (SCAN).
[DE 0401] - The Story of The Delaware State News (4:39)
Ed Dulin, president & publisher, The Delaware State News, tells the unique story of the newspaper started by Jack Smyth and now run by his son, Joe. The News is controlled by a non-profit trust, which was devised to keep the newspaper under local control and out of the publicly-traded newspaper marketplace.