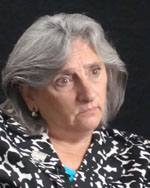 Geri Ferrara
Editor
Geri Ferrara became editor of The Dominion Post in 2003, bringing with her more than 20 years experience in the community newspaper field.
Ferrara was trained in Gannett's News 2000 community newspaper program. The corporate-wide Gannett initiative trained editorial departments to understand the value of local news coverage, diversity, reader outreach and interaction, and the principles of First Amendment journalism. She later became a program facilitator. Ferrara graduated from "Gannett University," and was promoted to her first post as a weekly newspaper editor. She eventually oversaw the operation of five Atlantic County weekly newspapers before returning to The Daily Journal, an 18,000 circulation six-day paper, as assistant city editor. During the course of her career, she served the Daily as city editor, editorial page editor, special projects editor and a managing editor.
In 2001, Ferrara took early retirement to partner in the acquisition of a weekly newspaper, The Island Journal, in Brigantine Beach, N.J., where she served as vice president, editor and publisher.
[WV-E 0201] - Epiphany IV: Geri Ferrara, editor, The Dominion Post, Morgantown, W.V. (3:16)
Geri Ferrara was editor at The Dominion Post when some numbers that did not add up led to a powerful story that demonstrated the value of her newspaper for many of The Dominion Post's readers.