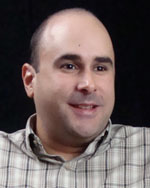 David Farré
Digital Developer
David Farré is the Digital Developer of The Burlington Free Press. He arrived in Vermont in July 2009 by way of Puerto Rico, where he's from, New Jersey, where he went to college, and Missouri, where he was the Web Editor of the Columbia Daily Tribune for eight years. You can follow him on Twitter @davidfarre.
[VT-E 0301] - Epiphany X: David Farré, digital developer, Burlington Free Press (1:39)
David Farré's epiphany came when he was a novice news photographer at The Daily Targum, his college newspaper at Rutgers, after a reporter commented on one of his pictures and everything came into focus.