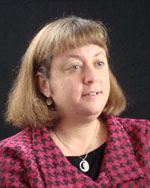 Felice Belman
Editor
Felice Belman is editor of the Concord Monitor, where she has worked, off and on, for more than 20 years as an editor and, before that, a state politics reporter. Among her brief forays elsewhere, she also spent two years as Maryland politics editor at the Washington Post. Belman is the co-editor, with Mike Pride, of The New Hampshire Century, a collection of profiles of 100 notable state figures from the 20th century. She twice served as a juror for the Pulitzer Prizes. Belman graduated from Oberlin College in Ohio in 1988.
[NH-E 201] - Epiphany XII: Felice Belman, editor, The Concord Monitor, Concord, N.H. (3:00)
Felice Belman was a young reporter at the Concord Monitor when she tried to avoid stirring the grief surrounding a drowning death and realized she had missed an opportunity to tell a fuller story the community needed to hear.