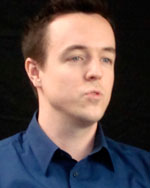 Sean Oates
Web Editor
Sean Oates is the web editor at NorthJersey.com, the news site for North Jersey Media Group's family of newspapers, including The Record and the Herald News daily publications. The site attracts 1.7 million monthly unique visitors.
Born and raised in Bergen County, N.J., Sean graduated from Ramapo College in 2000.
[NJ-E 0301] - Epiphany XXXI: Sean Oates, web editor, Northjersey.com, The (Bergen) Record; Woodland Park, N.J. (2:46)
Sean Oates had his epiphany in the multimedia age when his newspaper documented regional pollution in words, sounds, still pictures and video ("Toxic Legacy Project," a joint project with The Record and northjersey.com). It "changed the status quo by shedding light" on a problem, says Oates.