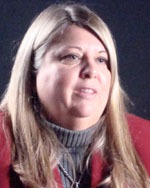 Charlotte Atkins
Editor-in-Chief
Charlotte Atkins has been the editor of the Rome News-Tribune since 2004. She previously worked at the Columbus Ledger-Enquirer as metro editor; the Monterey (Calif.)County Herald as assistant metro editor, news editor, online editor and associate editor; a decade at the Vero Beach Press-Journal in Florida as a government and political reporter, photographer and lifestyle editor, and a stint as director of a live daily television talk show in Florida.
She has won numerous awards for investigative journalism, news and feature writing, headline writing, photography and newspaper design. Atkins is an Auburn University graduate.
[GA-E 0202] - Epiphany XLVI: Charlotte Atkins, editor-in-chief, Rome News-Tribune, Rome, Ga. (3:21)
Charlotte Atkins made a decision during a week of sadness in her community to use her newspaper's agenda-setting power to try to keep her community on an even keel.