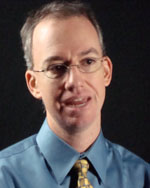 Jim Alred
New Media Director
Jim Alred is the New Media Director for News Publishing Company in Rome, Ga. He oversees internet operations for the company's websites and directs the multimedia department. Before returning to his hometown of Rome, he was an online editor and online videographer at the Naples (Fla.) Daily News.
In Rome, Alred and his crew have won awards from the Inland Press Association, Southern Newspaper Publisher Association and the Georgia Press Association for website and multimedia excellence. They produced the first-ever newspaper productions to receive Southeast Regional Emmy Nominations. Alred began his career as sports editor for the Selma (Ala.) Times Journal after graduating from Auburn University.
[GA-E 0301] - Epiphany XLVII: Jim Alred, new media director, Rome News-Tribune, Rome Ga. (2:42)
Jim Alred had been promoting the value of compelling news video for his newspaper's website and had been receiving lukewarm interest, until the recording of a local performance by a local woman American Idol finalist grabbed everyone's attention.