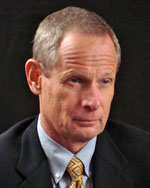 Paul Tash
Chairman, CEO and Editor
Paul Tash is chairman and CEO of the Times Publishing Co. and editor of the St. Petersburg Times. Tash started with the Times in 1978 as a local news reporter. He also has been a Tallahassee reporter, the city editor, metropolitan editor, Washington bureau chief and executive editor for the Times. From 1990-91, he was the editor and publisher of Florida Trend, a statewide business magazine owned by the Times Publishing Co.
Tash is chairman of the Poynter Institute for Media Studies, a school for journalists, which owns Times Publishing. He also serves on the boards of the Pulitzer Prizes, the Associated Press and the Newspaper Association of America. Tash graduated summa cum laude from Indiana University in 1976. He received a Marshall Scholarship and graduated magna cum laude with a bachelor of laws degree from Edinburgh University in Scotland in 1978.
[FL-E 0101] - Epiphany XLVIII: Paul Tash, chairman & CEO, Times Publishing Co., St. Petersburg Times, St. Petersburg, Fla. (5:33)
Paul Tash remembers a day when, "with a match and some kerosene," a minister's wife "sparked the interest" of The St. Petersburg Times. That incident led to a story that fully engaged the interest of The Times readership for many weeks thereafter.