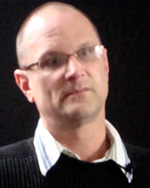 Keith Magill
Executive Editor
Keith Magill is executive editor of The Courier in Houma, La., and its sister paper, the Daily Comet in Thibodaux. He has spent most of his 26-year career at the papers, with stints as a reporter at the Wilmington Star-News in North Carolina and city editor at the Tuscaloosa News in Alabama.
The Louisiana Press Association named The Courier, under Magill's leadership, Newspaper of the Year in its circulation category for the past six years. Magill, an award-winning columnist, was recognized statewide and regionally for his authoritative essays about two of his community's most pressing issues: hurricane protection and coastal land loss. He graduated from Loyola University in his hometown, New Orleans.
[LA-E 0201] - Epiphany LVII: Executive Editor: Keith Magill, The Courier, Houma, La. (3:25)
Keith Magill witnessed the value of news when Katrina struck Louisiana in 2005. When some of his reporters "put their lives on the line" to report the story, he was reminded how much dedication journalism inspires.