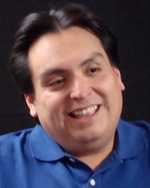 Henry M. Lopez
Digital Development Manager &amp Project Manager
Henry M. Lopez is manager of digital development for Santafenewmexican.com. He focuses on developing digital business opportunities for The New Mexican by reaching across traditional organizational lines. He is a former Web editor and reporter for the newspaper and teaches multimedia journalism online and at industry conferences and fellowships.
[NM-E 0301] - Epiphany LXIV: Digital Development Manager and Project Manager: Henry M. Lopez , The Santa Fe New Mexican, Santa Fe, N.M. (2:20)
Henry M. Lopez was writing an obituary for The New Mexican when he was reminded of the power of the press in a grandmother's kitchen in Santa Fe.