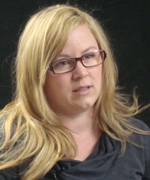 Kelly Davies
Creative Services Director
Kelly Davies began working in The Peak creative services department as a 15-year-old high school student. When her high school work experience ended, she "hung around" and negotiated with her teachers to continue to come to the office on Tuesdays.
Davies left Powell River to attend post-secondary studies in Victoria, where she subsequently worked at Monday Magazine, an arts and entertainment weekly owned by Black Press Ltd. When she returned to Powell River, she accepted a front office position at The Peak until a position opened up again in creative services.
According the PRPeak website, Davies serves as Creative Services Director, responsible for producing two publications a week, many special supplements throughout the year and Discover Powell River, an annual tourism magazine.
[BC-E 0201] - Epiphany CIV: Creative Services Directory: Kelly Davies; The Powell River Peak, Powell River, BC (1:03)
The power and purpose of journalism became evident to Powell River Peak Creative Services Director Kerry Davies when the mission of The Peak became clear to her: "We're here to help the community, " she says.