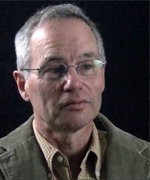 Terry Pugh
Assignment Editor
Terry Pugh, assignment editor, The Clark's Crossing Gazette, was born in Winnipeg, Manitoba, and raised in Saskatchewan and the British Columbia interior. He joined The Gazette in 2010.
In college, Pugh served as editor of the University of Saskatchewan student newspaper, The Sheaf, before graduating with a degree in geography.
Pugh has worked for several weekly newspapers and monthly magazines in Saskatchewan from 1976 to the present.
He also served as editor of a national monthly newspaper for a farm organization from 1981 to 1994, and later as executive-director of the same farm organization from 2004 to 2010.
Pugh has won one national Canadian Community Newspapers Association award for editorial writing excellence and 15 provincial awards for writing and photography.
[SK-E 0201] - Terry Pugh (2:03)
The assignment editor from The Clark's Crossing Gazette, Terry Pugh, shares an epiphany he had about a time when the power and purpose of journalism became clear to him.