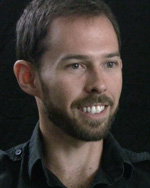 Nathan Eagle
Managing Editor
Nathan Eagle lives, works and plays on Kauaíi. An Ohio native, his passion for exploring new cultures has taken him from Spain to the middle of the Pacific. Starting as an environmental reporter, he now serves as managing editor of The Garden Island.
Eagle's passion remains fixed on holding elected officials accountable, providing a voice for endangered species and serving the community by delivering timely, accurate stories on the issues that matter most. Preserving journalistic integrity and maintaining high ethics are the foundation of daily decisions. When Eagle is not in the office doing his best to build his team of dedicated reporters – and improving his own performance through constant self-criticism – he is either in the water free diving or on the side of a mountain hiking.
[HI 0201] - Part 1: Intro and Contribution (3:05)
Nathan Eagle, managing editor, The Garden Island, started at the newspaper in May 2007. Eagle says he was drawn to journalism because "it was empowering." According to Eagle, one of The Garden Island's key goals is "to keep tabs on whatever our elected officials are doing."
[HI 0202] - Part 2: Ethics & Content (4:22)
Nathan Eagle, managing editor, The Garden Island, says The Garden Island uses the Society of Professional Journalists' ethics code to guide its activities. Eagle says journalism ethics are a key motivator for him. "My father told me, 'If someone tells you you're an idealist, just say, "Thank You,"'" says Eagle. The Garden Island encourages its readers to flag any anonymous e-mail comment on its website "if it looks offensive."
[HI 0203] - Part 3: Strategic Changes (2:49)
Nathan Eagle, managing editor, The Garden Island, says the newspaper is "grappling with how to keep our print edition alive while maintaining our online readership." But he finds the newspaper industry's tactic of giving away online news baffling. "I can't think of another industry that's spending all this time and effort and resources to develop a product they believe in and are passionate about," says Eagle, "and [then] try to come up with all the ways they can to give it away for free."
[HI 0204] - Part 4: Adaptation & the Future (2:22)
Nathan Eagle, managing editor, The Garden Island, says he helps his reporters stay on track and produce frequent watchdog reports. "It's definitely a balancing act," says Eagle, "because at the same time I expect them to stay on top of day-to-day happenings" on their assigned beats. One thing that makes that easier, says Eagle, is that his staff "is eating and breathing journalism." But he says "there is no silver bullet:" We are "continuing to do the best we can with the limited resources we've got."
[HI 0205] - Part 5: Prospects & Preparation (1:48)
Nathan Eagle, managing editor, The Garden Island, tells aspirants: "Don't think about entering this business unless you truly believe in its mission to the core." Eagle says he judges candidates mainly on the quality of their clips. "You've got to get these clips," he says.