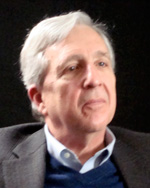 Miles Forrest
Publisher
Since 2000, Miles Forrest has been the Publisher of both The Courier in Houma, La., and The Daily Comet in Thibodaux, La. Forrest, a Thibodaux native and graduate of Nicholls State University, began his newspaper career in 1973 at the Houma Daily Courier. He has worked for The Courier or The Daily Comet in a variety of positions ever since.
Forrest is a past president of the Louisiana Daily Newspaper Association, the Louisiana Press Association, and the Louisiana Press Association Foundation.
[LA 0401] - The Story of The Courier - Miles Forrest, publisher, The Courier, Houma, La (3:59)
Miles Forrest, publisher, The Courier, says The Courier began in 1878. After many ups and downs, it was purchased by the New York Times Regional Group in December 1980. The nearby Thibodaux, La., Daily Comet was added to the Times Group later. Both of the newspapers are now printed in Houma, La., and published by Miles Forrest and edited by Keith Magill.