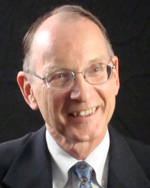 John Bodette
Executive Editor
John Bodette started his 37-year journalism career in 1974 as wire editor at the St. Cloud Times. He also served as city editor and news editor. He was named managing editor at the Times in 1986 and executive editor Dec. 23, 2005. In 1981, he was one of the original journalists on the prototype project that helped create USA Today.
Bodette is a past president of the Minnesota Associated Press Managing Editors Association. He was the winner of the 2008 Robert G. McGruder Award for Diversity Leadership. Bodette is a graduate of St. John's University, Collegeville, Minn. To relax, he runs triathlons, duathlons, half marathons and marathons -- none of them very fast.
[MN 0401] - The Story of The St. Cloud Times (6:11)
John Bodette, executive editor, The St. Cloud Times, says his newspaper was founded as The Minnesota Union in 1861. Bodette tells the colorful story of some of St. Cloud's early editors, including Harold Schoelkopf -- who served on the local school board while he served as editor -- and Jane Grey Swisshelm -- a pioneering woman editor, who was the first woman journalist to cover the White House. The Times has been a Gannett Company newspaper since 1976.