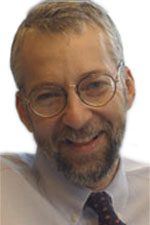 Tom Warhover
Executive Editor for Innovation
TOM WARHOVER is an associate professor and chair of the print and digital news faculty at the Missouri School of Journalism. He also is the executive editor for innovation at the Columbian Missourian. His role at the Missourian is to transform the newsroom for the future, experimenting with new approaches and technologies in content and delivery while honoring the best traditions of public service, integrity and independence. The Missourian publishes a print edition; Vox, a weekly city magazine; two daily websites; eight regular blogs; and 12 neighborhood e-newsletters.
Prior to joining the university, he worked for The Virginian-Pilot, a 200,000 circulation daily newspaper serving southeastern Virginia and northeastern North Carolina. At The Pilot, he was a copy editor, designer, wire editor and metro editor. He covered city hall as a beat reporter. As an assigning editor in charge of the "public life team," he helped the paper create principles and daily practices for the then-fledgling concept of public (or civic) journalism. He helped guide the long-term strategies of the newsroom as deputy managing editor and the fiscal fortunes of part of the newspaper as the North Carolina general manager.
Warhover was not available for a video interview.