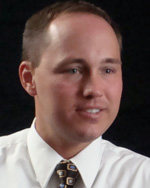 Zach Ahrens
Advertising Director
Zach Ahrens has spent much of his career leading and training advertising teams to sell both print and online advertising. Starting at the York News-Times in York, Nebraska, Ahrens served as a graphic artist, retail sales representative and a member of the property's new media team. Ahrens worked as an advertising director for Lee Enterprises in its Lincoln, Nebraska, suburban business unit, as a publisher with the Omaha World Herald Co. in southwestern Iowa and with small market dailies and weeklies in the Midwest before he moved to Grand Forks in June 2010 to work as ad director. Ahrens has a bachelor's degree in Speech Communications with a minor in English from York College, York, Nebraska.
[ND 0301] - Part 1: Introduction & Contribution (3:07)
Zach Ahrens, advertising director, The Grand Forks Herald, started at the newspaper in June 2010. In addition to managing the ad staff, Ahrens oversees the newspaper's web activities. He began his newspaper career in York, Neb., in 2000. They told him, "You're the kid out of college," and they put him in charge of their website. In subsequent years Ahrens was the publisher of three different weekly newspapers in Nebraska. "I've worn a lot of hats and enjoyed them thoroughly," says Ahrens.
[ND 0302] - Part 2: Digital Revenues (7:58)
Zach Ahrens, advertising director, The Grand Forks Herald, says his staff follows the new mantra for newspaper ad sales. "Everything starts with a needs analysis, and it's solution based," says Ahrens. The newspaper's recommended "solutions," says Ahrens, "Are constantly evolving." One of the first lessons, Ahrens said, that he needed to teach his ad staff was that online newspapers are here to stay. "Some of the veteran staff thought, 'If we just wait this out – it's the latest fad – it will go away.'" So Ahrens reassured them, "This is important" and it's permanent. Ahrens also emphasizes new digital sales incentives and training. "It's the same game that we have in print – still the audience, still the frequency, still the content – it's just packaged in a different way," says Ahrens.