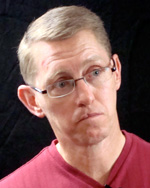 Kurt Johnson
Co-Publisher
Aurora News-Register co-publisher Kurt Johnson grew up in a newspaper family. His parents, Elna and the late Loral Johnson, established Johnson Publications, Inc., with papers in Imperial, Wauneta, Grant and just across the border in Holyoke, Colo.
After earning a journalism/business degree from Kearney State College in 1985, Johnson worked in news-editorial management with newspapers in five states, before he and his wife Paula purchased the Aurora News-Register in 2000 from Butch and Nancy Furse.
[NE 0101] - Part 1: Introduction and Contribution (7:00)
Kurt Johnson and his wife, Paula, purchased the News Register in 2000. Johnson comes from a weekly newspaper family. The Johnsons purchased the newspaper because they decided Aurora was a growing community and the weekly had the resources to produce special reporting projects. Johnson says he likes to "take issues that are really relevant to the community and explain them." Johnson also believes the newspaper should take an active role in community leadership. "I think it's important in a town like this that the newspaper just not be an observer," says Johnson.
[NE 0102] - Part 2: Strategic Changes (6:03)
Kurt Johnson, co-publisher, The Aurora News-Register, says his newspaper cut two positions as a result of the recent recession, which mainly affected their commercial printing business. On the positive side, the adaptation of multi-media software – Soundslides – has generated additional income for the newspaper. After a tornado hit Aurora, the News-Register produced a Soundslides' feature "which literally was the only [photo] coverage of the event," says Johnson. The photos ended up on Omaha TV and CNN. Since then the newspaper has sold Soundslides' feature sponsorships, like local high school football.
[NE 0103] - Part 3: Adaptation & the Future (9:29)
Kurt Johnson, co-publisher, The Aurora News-Register, says looking forward "our core is still in content." "Over time I think that society is figuring out that not everything on the web is accurate or credible," says Johnson. "So the content and the credibility that we bring to our community is the franchise in my view." Johnson says a recent survey produced by graduate students at the University of Nebraska, Lincoln, said 91 percent of his community referred to The News-Register as their "primary source" of local news. (
Click here to view the survey
)
[NE 0104] - Part 4: Preparation (1:40)
Kurt Johnson, co-publisher, The Aurora News-Register, says journalism students should "focus on content, first of all – the writing; good interview skills. Getting the story is where it starts," says Johnson, "no matter what it's going to look like in the end." The journalists of this era need to learn to be flexible and adaptive, says Johnson.