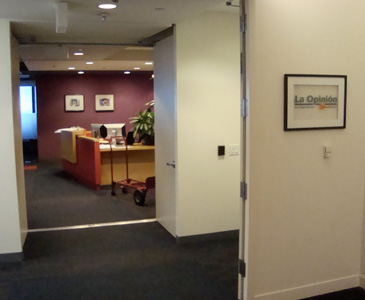 The editorial office of La Opinion, the nation's largest circulation Spanish-language daily newspaper, resides on the 30th floor of a high-rise tower at 700 S. Flower St., Los Angeles, Calif.
Summary
La Opinión, a Spanish-language daily headquartered in Los Angeles, Calif., is the "voice of the Latino community in Southern California and throughout the U.S.," says Executive Editor Pedro Rojas. "We cover major events in the U.S. from the Latino perspective."
The community with a "Latino perspective" is an important market for La Opinión given that the 2010 Census estimated the United States Hispanic population to be 48.4 million, making people of Hispanic origin the nation's largest ethnic or race minority. Looking forward, the projected 2050 Hispanic population is 132.8 million, which would constitute 30 percent of the nation's population.
La Opinión's community outreach encourages voter registration, voting, and naturalization. (See the picture above of the May 1, 2006, immigration demonstration in Los Angeles. And, click on J-[Journalist's] Epiphanies to hear Rojas' pride in his staff's commitment to covering the event.)
La Opinión's current challenge is how to best serve their growing market. "We're it to this audience," says Steve Bentz, La Opinión's president and Sr. VP sales for impreMedia, La Opinión's parent company. (See the Story of the Newspaper to learn more about impreMedia.) Bentz says the newspaper aims to help their audience live their lives… to find "a job, a doctor, shopping."
Bentz says, "We have a lot of change ahead of us." La Opinión plans to grow its print circulation in the Los Angeles DMA by adding more news racks. "Online has become traditional media in the Hispanic market," says Bentz, "and putting your print product online doesn't do it for our audience." The Hispanic audience is heavily into mobile and social engagement, he says. The newspaper is exploring creating a new website that will have greater appeal to their audience. (Click on the Backgrounder to learn more about La Opinión's coverage focus and staffing.)
Check This
Rojas and Hilda Garcia, VP, multiplatform content and information for ImpreMedia, stress La Opinión is a newspaper like any other in the United States. The newspaper has a code of ethics, an editorial board, and makes political endorsements. Rojas emphasizes the newspaper's similarity to other U.S. newspapers because certain editorial practices – particularly endorsing candidates for office -- are not the norm for Latin American newspapers.
Coming Next in the Pacific Coast series: The Garden Island (Lihu'e, Kauai, Hawaii) Willamette Week (Portland, Ore.), and The Seattle Times.
Follow us and comment on Facebook.
-- Sara Brown and Paul Steinle