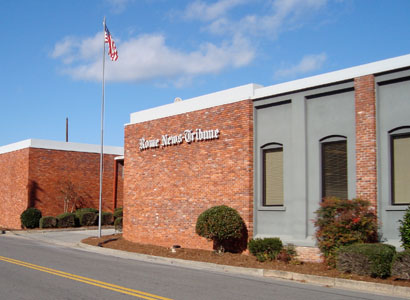 Rome News-Tribune and its parent News Publishing Co. are located at 305 East Sixth Ave., Rome, Ga.
Summary
How does a family-owned, small town newspaper such as the Rome News-Tribune, 18,000 Sunday circ., in rural Georgia beat the competition? Local news is its big news. "It's got to be a really big story to usurp local news' position on the front page," says Publisher Otis Raybon, Jr. They use their newspapers and website, RN-T.com, to cover obituaries, kindergarten graduations, law enforcement catching a robber, Shorter College becoming a university -- that's all big news.
"If we ever lose the understanding that we have to build a sense of community… in our daily and weekly newspapers, then I think that's when we lose to the Internet and cable and to whatever else is out there," says Raybon.
For Editor-in-chief Charlotte Atkins, telling people why events matter is critical. What would government do "if no one was watching?" she asks. Readers need to know "what happens when school budgets are cut," or "the impact on people's personal lives with foreclosures." Atkins is "sick of hearing that newspapers are dying." "Our foundation is a legacy of 167 years of covering this community," she says.
Check This
New Media Director Jim Alred is a fan of the video produced on RN-T.com. Early in his tenure, Alred told management, "If you ignore this storytelling medium, you're going to ignore a lot of people's interests." They must have believed him, because Alred and his team have produced almost 3,000 videos since he arrived in 2006. Some videos have won Emmy nominations.
Raybon thinks, "We may need two independent sales groups to sell print and digital as we get more sophisticated with email and mobile marketing." Check the Backgrounder for details about the News-Tribune's business and digital operation. Check J-Epiphanies on the toolbar to hear Raybon, Atkins and Alred's stories about how the power and purpose of journalism became clear to them.
Coming Next:
The Gulf States series: The St. Petersburg (Fla.) Times, The Opelika-Auburn (Ala.) News, The Northeast (Tupelo) Mississippi Daily Journal, The (Houma, La.) Courier, and The Austin (Texas) Statesman.
-- Sara Brown and Paul Steinle