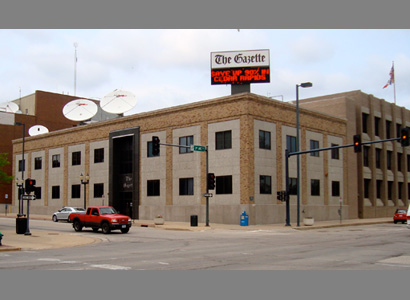 The Gazette, owned by the Gazette Company, uses the trade name Source Media. They operate from this building at 500 Third Avenue SE, in downtown Cedar Rapids, Iowa.
Summary
Welcome to the "Innovation Pipeline," a weekly "guilt-free, risk-free zone" where the consumer insights team and other Gazette Company employees can air new ideas, says Tim McDougall, VP of products for SourceMedia and publisher of The Gazette. "The genesis of new products usually comes from that meeting," says McDougall.
Engaging employees to "bubble up" new ideas is the order of the day at The Gazette Company, also known by its trade name: SourceMedia, because the company has embarked on a major change in its product, professional, and organization cultures.
The goal is "to be a complete community connection. So wherever you are or whatever device or product you are using, you are able to get a remarkable user experience to access the information you need," says Chuck Peters, president and CEO of The Gazette Company. To achieve that, says Peters, "We have to act totally differently." "Our journalists," says Peters, "now need to be pursuing the objective of community development, or a particular slice of that, and have to be creating a network of actionable, useable information that has great predictive value." (See Peters' blog about this new paradigm: "C3 – Complete Community Connection" .)
McDougall acknowledges that initially their organization got tangled up when it tried to make changes such as "separating product from content" -- an abstract idea with "negative connotations." It put employees "out of their comfort zone." What was intended was to merge the reporters from its TV station, KCRG-TV, and The Gazette into a single reporting team -- a "content" team; to merge the newspaper editors and TV producers – into a "product" team; and merge all the sales personnel from TV and the newspaper into a single sales team. Once the concept was clarified, the process of change began. And, in the summer of 2011, a "common newsroom" was being created to further rationalize Source Media's newsgathering and news production tasks.
VP Administration Cathy Terukina has oversight for four managers of the content gatherers: journalists, photographers and weather. Her main role is to help guide the newsroom managers with "organizational issues." The Gazette Company is "trying to develop a new relationship with our communities," she says, and "create a richer, deeper network of information to help people [the audience] get smarter." To do this Terukina poses these questions with staff, "How do we re-imagine the way we engage with community? How do we re-imagine our role as journalists?" and what are the behaviors of a journalist who is "engaged" with vs. "independent" from the community?
Check This
The changes underway at The Gazette Company are complex. To understand their intentions, goals and processes, it is best to hear their stories in their own words. Please click on the interviews of Peters, McDougall and Terukina. Also, click on The Story of the Newspaper to learn about The Gazette's rich past and Journalists' Epiphanies (J-Epiphanies on the toolbar) to hear McDougall's story of when the power and purpose of journalism became clear to him.
Coming Next in the Plains States series: St. Cloud (Minn.) Times followed by the Prairie States series: The (Mitchell, SD) Republic and The Grand Forks (ND) Herald. Please follow us and comment on Facebook.
-- Sara Brown and Paul Steinle