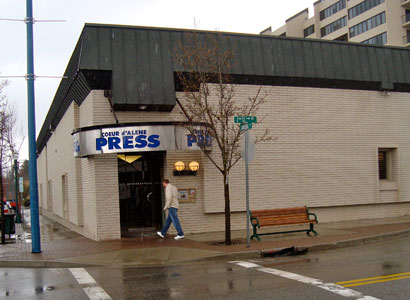 The Coeur d'Alene Press, which is owned by the Hagadone Corporation, is located at 201N. Second St., Coeur d'Alene, Idaho.
Summary
"I don't want to be the leader [in new technology]; I want to be two steps behind," is the mantra of the Coeur d'Alene Press (circ. 22,000), led by Publisher Jim Thompson. But, Thompson quickly adds, "I don't want to get any farther back than that."
They "let others do the beta testing," according to Mike Patrick, managing editor, but once they make the plunge they take full advantage of technology that benefits their customers. For example, Hagadone Corporation, their parent company, invested in a WSI (We Simplify the Internet) franchise. This enables the CDA Press to be a full-service digital partner for their advertisers. Advertisers can go to a "trusted source," says Online Director Mike Alexander, for their website development and maintenance. Thompson thinks the integration of new marketing tools such as WSI will be one of their greatest opportunities for new revenue in the next couple of years. (Click on Backgrounder)
"We [the newspaper industry] spent 100 years perfecting little things," says Thompson. Now "we work every day creating a new model and making sure everyone understands who is going to do it." Although they've had some layoffs in the last few years, Thompson says the CDA Press employs "more people today than we ever have. They are just doing different things."
Check This
Managing Editor Mike Patrick explains that the CDA Press does not have a written code of ethics. Instead their ethical litmus test is, "Is this the right thing to do for the community and the right thing to do for the newspaper?" Patrick gives an ethics example involving a teenage suicide. Click on Enterprise Stories to read about Idaho's political struggles to prevent public workers from collective bargaining and strikes. Click on Journalist's Epiphanies (J-Epiphanies on the toolbar) to hear Thompson and Patrick relate anecdotes of when the power and purpose of journalism became clear to them.
Coming Next: in the Mountain States series: The Bozeman (Mont.) Daily Chronicle, The Jackson Hole (Wyo.) News & Guide, The Deseret News (Salt Lake City, Utah), and The (Grand Junction, Colo.) Daily Sentinel.
Follow us and comment on Facebook
-- Sara Brown and Paul Steinle