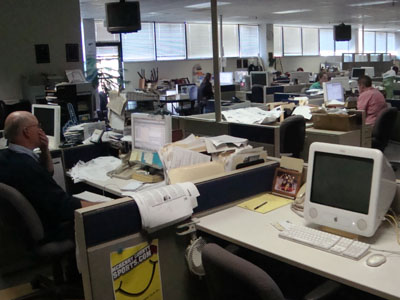 The Northwest Herald operates with a news staff of 50 people, 15 of whom are reporters covering McHenry County.
Summary
The Northwest Herald in Crystal Lake, Ill., is one of many newspapers that lie within the outer periphery of the Chicago metro market (another, coming up in a later WNN report, is The Northwest Indiana Times, Munster, Ind.) The Herald is the largest circulation paper in the Shaw Suburban Media Group – a group strategically created to protect its markets from encroachment from Chicago media.
While half of the people in the Herald's circulation area, McHenry County, work in Chicago, according to John Rung, publisher, the Herald strives to preserve a small community feel and cohesiveness. In its print and online editions, the Herald emphasizes local community news and information that the Chicago media don't cover.
The Herald's web presence has vastly extended its sphere of influence. The Herald is reaching more people with its web products than it ever reached with only print, "about 10 times more," says Scott Rosenburgh, VP of digital media.
We were slow to get onboard with an online presence, says Chris Krug, executive editor of the Northwest Herald. Our first website was dull and robotic, says Krug, but when we figured it out, we went "from worst to first." The Herald's website, (www.nwherald.com) won a best practices award from the Suburban Newspapers of America, a 2008 Chicago Press Club award for best website in Greater Chicago, and an Inland Press Association award for Best Online Innovation of the Year in 2009 for its PLANiT Northwest website. "If there's a new medium," says Krug, "we're going to be early adopters."
The Herald's challenge, like many newspapers, is how to make money – monetize in the industry's jargon -- its web products. This challenge involves helping both the newspaper's sales staff and its customers adopt a new mind set about connecting advertisers with their markets.
Check This
John Rung explains why the Herald has chosen not to erect a paywall, and why he thinks readers/users don't anticipate news content on digital tablets, such as iPads, will be free. The executive editor, Chris Krug, explains how his reporting staff's work schedules have been modified to serve its web users. And, digital manager Scott Rosenburgh explains why "growth and flexibility" are the keys to success for leadership in the rapidly changing digital landscape.
-- Sara Brown & Paul Steinle