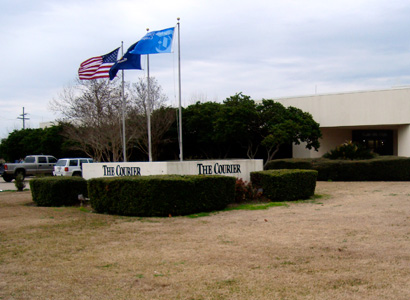 The Courier, a New York Times Regional Newspaper Group newspaper, is located at 3030 Barrow St., Houma, La.
Summary
"The same forces that affect big newspapers, affect us too," says Miles Forrest publisher of The Courier, a 13,000-circulation daily newspaper in Houma, [pronounced home-a] La., 57 miles from New Orleans. The forces Forrest was referring to are the readers' demand for immediacy, segmentation in the kind of news people want, and readers' expectation of extensive aggregation of community information.
These greater challenges have given The Courier and its sister-newspaper, The (Thibodaux, La.) Daily Comet, newsrooms a "sense of empowerment," says Forrest. When Hurricane Katrina clobbered New Orleans and the Gulf Coast in 2005, residents had to evacuate and they needed to know what was happening at home. "You learn how valuable trustworthy information can be," says Executive Editor, Keith Magill. Reporters posted critical information to Houmatoday.com without waiting for editing. That worked well, says Forrest, and "it's become the norm."
Forrest and his leadership team are exploring various avenues for increased revenue. They have invested in a new press with extensive color capability. They anticipate commercial printing will be a significant source of new revenue. Forrest describes The Courier as a "big fish in a small pond," when it comes to print advertising sales, but with the Internet, "it's a different picture," he says.
To gain traction they reorganized their sales structure, eliminated traditional classified and display sales departments, created "sales channels," and emphasize serving small businesses. According to Forrest, they changed their sales compensation to "incent behavior that gives us what we need," increased digital ad sales. They are working to develop comfort for both their ad staff and advertisers with digital advertising. "Advertisers are looking for training too on digitals benefits and values," says Forrest.
Check This
In the Ethics and Content section of Keith Magill's interview, he describes the ethical issues with anonymous reader postings. He also comments on the possible over-use of video on their website. "I don't know if we've gotten that [video] right yet, but we will," he says. Ross Lapeyrouse, online content producer, describes the use of Google Latitude to track Mardi Gras parades. Websites for Bayou Gourmet, Bayou sports, and blogs on Cajun cooking and humor are in the works.
Click on Story of the Newspaper and Enterprise Stories to learn about the area's dependence on the oil industry. Click on J-Epiphanies to hear Miles Forrest and Keith Magill recount times when the power and purpose of journalism became clear to them. Forrest describes the changes that happened after the paper wrote a story about prescription drug sales to the local jail. Magill remembers when Hurricane Katrina updates from reporters, holed up in City Hall during Houma's evacuation, kept residents advised.
Coming Next in theGulf States series: The Austin (Texas) American Statesman, followed by the Western States series: The Santa Fe New Mexican, The Navajo Times, and The Las Vegas Sun.
Follow us and comment on Facebook.
-- Sara Brown and Paul Steinle