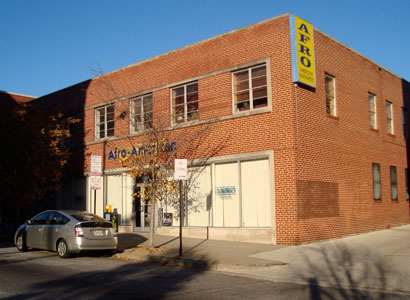 The Afro-American Newspapers' corporate headquarters is located at 2519 N. Charles St., Baltimore, Md.
Afro-American Summary
"The Afro-American brings [our readers] a perspective," says John "Jake" Oliver, CEO and Publisher of this 118-year old family-run newspaper. The daily newspapers have never had the resources or interest in covering the African-American perspective; "It is this perspective that drives how we approach an event," says Oliver. "Black newspapers don't exist to be objective. They have a framework of advocacy," (Nick Madigan, Baltimore Sun, 11/28/06).
Talibah Chikwendu, executive editor of the Afro's three weekly editions: Baltimore, Washington, D.C., and Prince George's County, thinks of the Afro as a, "meeting place for the improvement of the community -- a window into the world they can't get any place else." Chikwendu is aware of building on the 118-year legacy of black and civil rights history held in the Afro's archives. When planning news content she asks, "What needs to be part of that record going forward?"
The Afro's website, Afro.com, built in 1996, contained only black history for many years. Now Afro.com features news that complements its print editions (click on Enterprise Stories), and The Afro is experimenting with hyper-local, interactive, coverage on Afro.com, using community journalists to cover neighborhoods. Oliver sees this as an opportunity to "return to our roots" covering births, weddings, retirements, and news of interest to their readers such as "who got accepted to the Naval Academy."
Check This
Chikwendu notes, "We've [journalists] been so busy trying to re-make ourselves, we've forgotten to re-market ourselves to help the public understand what journalists do. We follow a code of ethics." Oliver discusses the problems in converting print ad reps to digital ad reps. Online Web Editor William Parschalk describes the skills needed for a job such as his: curiosity, a positive mind-set, and the ability to respond quickly to the way information travels now, both nationally and locally.
Former slave John H. Murphy, Sr. founded the Afro-American in 1892 when he merged his church publication with two similar publications in Baltimore. Over the years, the newspaper has joined with groups such as the NAACP to help promote social change including desegregation of public schools in the 1950s. Click on The Story of the Newspaper.
As a boy, Jake Oliver questioned why his family used "Afro" in the newspaper's name. Click on J-Epiphanies and hear how Oliver came to understand its importance.
Coming Next
The S.E. Atlantic States series: The (Roanoke, Va.) Times, The Fayetteville (N.C.) Observer, The (Charleston, S.C.) Post & Courier, and The Rome (Ga.) News.
-- Sara Brown & Paul Steinle