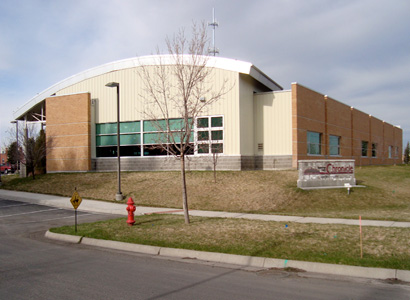 The Bozeman Daily Chronicle – a Pioneer Newspapers affiliate – is located at 2820 W. College, Bozeman, Mont.
Summary
Bozeman, Mont. (Metro area population 91,743 according to bestplaces.net) is Chamber of Commerce-charming: "Clean air, a moderate climate, access to Yellowstone National Park, world-class museums, and other diverse arts and cultural opportunities, complimented by the Bobcat spirit of Montana State University." And "If you want to know what's going on in Bozeman, you'd better be reading the Bozeman Daily Chronicle," says Managing Editor Nick Ehli.
The Chronicle has an active editorial board that includes a rotating group of four people from the community. "It's a newsy community," says President and Publisher Stephanie Pressly. "The city and county are always up to something." To meet the changing news and business needs of the community, the paper created two new jobs: an online advertising sales manager and a web editor.
The Chronicle's goal is to be a business partner with advertisers to help them market their businesses, says Pressly. In addition to online display ads, which Andrew Seibenick, advertising manager, BozemanDailyChronicle.com, says is their core product, the Chronicle is expanding its advertising options to include service directories, niche publications, banner ads, Twitter, and mobile and iPad sponsored ads to "help advertisers direct their marketing efforts," says Pressly. (Click on the Backgrounder for more details.)
Nick Ehli says the addition of "mo-jo" (mobile journalists) units for the reporting staff – a Kodak still and video camera, a laptop and Wi-Fi cards – has improved its web reporting. "They can file video stories from wherever," says Ehli.
Asked if the Chronicle is "print first or web first," Ehli responded: "We don't think that way anymore." Breaking news goes on the web first, and Web Editor Michael Becker "drives content all day." After that, "what you see in the newspaper is what you see on the web," says Ehli.
Check This
Using a story the paper ran on structurally-deficient bridges in Gallatin County, Mont., Becker explains how original source documents such as video, interactive maps and graphics enhance stories. (For more examples, click on Enterprise Stories and read "Return of the Wolf," The Chronicle's award-winning report on the reintroduction of wolves to Yellowstone National Park and central Idaho.) Click on Journalists' Epiphanies (J-Epiphanies on the toolbar) to hear when the power and purpose of journalism became clear to Nick Ehli and Michael Becker.
Coming Next in the Mountain States series: The Jackson Hole (Wyo.) News & Guide, The Deseret News (Salt Lake City, Utah), and The (Grand Junction, Colo.) Daily Sentinel.
Follow us and comment on Facebook
-- Sara Brown and Paul Steinle