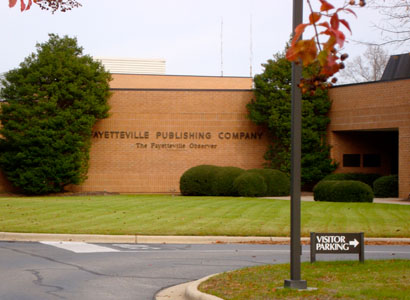 The Fayetteville Observer and Fayetteville Publishing Co. are headquartered at 458 Whitfield St., Fayetteville, N.C.
Summary
"We have to invest in [quality for] this community and it will reward us in return," says Charles Broadwell, president of the Fayetteville Publishing Company and publisher of The Fayetteville Observer, an independently-owned newspaper, serving a diverse market in 10 counties in S.E. North Carolina. The community is both rural and urban, retired, and many are golfing enthusiasts. The Observer also serves the 55,000 soldiers and their families at Fort Bragg. Broadwell describes their market as young, ethnically diverse, and coming from all over the nation.
We need to be more "platform agnostic," says Broadwell, and that has spurred the paper to develop an emerging hybrid of print and web products. The newspaper has developed a new web and mobile site, and niche publications such as Fort Bragg Life, Next! -- for boomers -- and a Spanish language paper. (See the Backgrounder for more details on The Observer's diverse revenue sources.)
Broadwell acknowledges that changing the newspaper's culture is an ongoing struggle. We need to be more nimble, says Broadwell, "We're going 50 miles an hour when we need to be going 100." Executive Editor Mike Arnholt agrees: "Our newsroom still hasn't made enough of a cultural shift from print to web; [but] that will happen."
Carolyn McLaurin, online sales manager, is helping the advertising sales reps to make a culture shift. Her job is to train the sales reps in the use of new technology. "By 2014, 90 percent [of the public] will have handheld devices to receive their news," says McLaurin. The Observer needs to encourage more local advertisers to advertise on the web now and since, she says, sales is about relationships, "who better to communicate with customers than the sales reps they trust."
Check This
Mike Arnholt describes the staffing balance between watchdog reporting and the shift to multi-media reporting. The Observer shoots for one significant watchdog series and eight smaller watchdog stories each year. An example is "The Hidden Wounds" series --- stories about Fort Bragg soldiers deployed to Afghanistan and Iraq and the impact on their mental health and on their families. (See the slides on this page and the series in Enterprise Stories). Click on J-Epiphanies on the toolbar to hear Arnholt's story about learning the soldiers' families' responses to "The Hidden Wounds" series and Broadwell's experiences collecting readers' oral histories.
Coming Next
The S.E. Atlantic States series: The (Charleston, S.C.) Post & Courier, and The Rome (Ga.) News.
-- Sara Brown and Paul Steinle