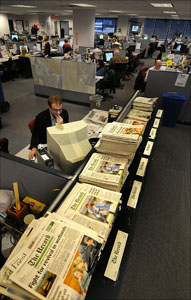 Journalists create content for upcoming issues of The (Bergen) Record and (Passaic) Herald News in the North Jersey Media Group newsroom in Woodland Park, N.J. The combined newsroom staff for the two newspapers is 225 fulltime employees, according to The Record's Editor, Frank Scandale. (David Bergeland; The Record)
Summary
Stephen Borg, president of the North Jersey Media Group and publisher of The (Bergen) Record and Herald, is fixated on knowing why people don't read newspapers. He sometimes thinks, "We [newspapers] are giving people broccoli and they want cheeseburgers."
Borg thinks the answer is to encourage the habit of newspaper reading by consistently giving people content they want. Rather than producing an A+ paper some days and a C other days, he would rather produce a B+ paper every day.
The North Jersey Media Group has taken a number of steps to improve profitability. It lowered overhead by closing one of its three facilities (the former Bergen Record offices and plant in Hackensack, NJ). Its six magazines and 45 community weeklies are doing well. Its readership is high, among print, web, and mobile platforms the combined print and digital publications reach more readers than ever before. The problem as Borg sees it is that there are, "too many websites chasing too few ad dollars." Borg believes the Group has a strong digital presence, but it "can't [effectively] monetize it."
Frank Scandale, editor of The Record and Herald, says that although staffing cannot stretch to cover news 24/7, The Record has found its 5:30 a.m. "morning team," consisting of an editor, web editor, reporter and photographer, provides fresh news for readers. The Record staff has also tried successful experiments such as blogging high profile trials, as a running narrative, and partnerships with radio and TV stations, including Latino and Korean TV.
Sean Oates, web editor, provides a detailed description of the job duties of a web editor. This will be particularly instructive for journalism students and digital faculty members.
Check This
Scandale and Oates point to the Toxic Landscape series (click on the Enterprise Stories link) as an example of how print and web combine for dynamic storytelling, also see www.toxiclegacy.com.
Coming next in the Mid-Atlantic States series: The Delaware State News and the (M.D.) Afro-American.
-- Sara Brown and Paul Steinle