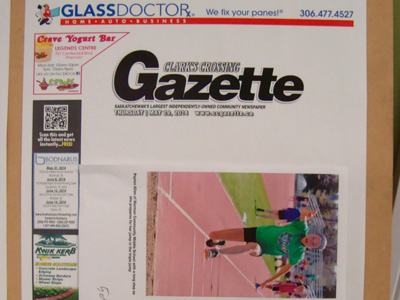 The Clark's Crossing Gazette is located at 109 Klassen Street, West, in Warman, Saskatchewan.
Summary
The Clark's Crossing Gazette is a rural/suburban community newspaper in Warman, Saskatchewan, that has been bucking the trend against contraction in the newspaper business.
Terry Jenson and his wife, Angela Heidel, launched The Clark's Crossing Gazette in 2008. The newspaper is free circulation and is published weekly on Thursdays.
Frustrated by an inability to learn much about their new hometown of Warman, Jenson said, "The decision was made at the dinner table one night to start a newspaper."
Jenson had worked for and managed a community newspaper owned by his family in Outlook, Saskatchewan, beginning in 1992, until that newspaper was sold in 2007.
Clark's Crossing
The Gazette is named for a local landmark, Clark's Crossing, a ferry crossing established in1881 by a pioneer entrepreneur, John Fowler Clark, across the South Saskatchewan River east of Warman.
Since its inception, May 15, 2008, The Gazette had grown in circulation from 5,700 copies a week to more than 17,000 copies per week by 2014.
Initially, Jenson said, there were "two or three" regional papers in his market, but by 2014, that number had been reduced to one direct competitor, The Saskatchewan Valley News in Rosthern with a circulation near 1700. Subsequently, Jenson and his wife purchased The News in March 2014.
Growth Lifts The Gazette
For many years, Saskatchewan, a huge prairie state (size-wise, it's between California and Texas), had suffered from population decline, according to Jenson. But, Jenson said, beginning in 2007, a new provincial government in Saskatoon instituted an aggressive economic plan, exploiting the region's natural resources. As a result the province's population had grown by 120,000 in the five years leading up to 2014.
Warman and its neighboring community, Martensville, three miles away, also had grown quickly. Warman grew from about 3,800 residents in 2008 to about 8,500 in 2014, while Martensville became the fastest growing small community in Canada during the same period, growing to about 8,000.
The local population growth lifted the Clark's Crossing Gazette's fortunes during the same period. The Gazette grew from a staff of one to nine fulltime equivalents in its first six years.
Keep it Local
The Gazette's formula is simple. "We try to fill, wall to wall, with local content," said Jenson. "We (also) champion the cities and towns that we serve." In contrast to the Saskatoon metropolitan papers, "we get to the track and field meets and the city council meetings," said Jenson. "Without us around there would be a lot less accurate information on the street." As a result, local governments support The Gazette. "They applaud us for being there," said Jenson
Jenson also credits his staff for the newspaper's success. Jenson has hired people with considerable news media experience. "I credit their opinions as much as my own," he said.
The formula for success has been simple for the Clark's Crossing Gazette: free circulation, a concentration on local news and events about the fast-growing communities of Warman and Martensville and all the tiny satellite communities surrounding nearby Saskatoon, and the establishment of local newsprint and website platforms that local advertisers can use to reach these communities in a credible environment.
Free circulation also means fewer dollars for reporting, but this is a business model that works under these constraints in an isolated marketplace when a newspaper reliably fulfills a key information role.
Please follow us and comment on Facebook.
-- Sara Brown and Paul Steinle