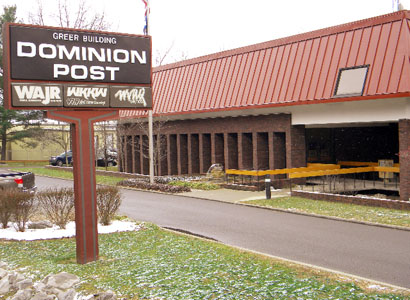 The Dominion Post, at 1251 Earl L. Core Rd. in Morgantown, W.V., shares this building with several other Greer-family industries.
Summary
The Dominion Post in Morgantown, W.V., is proud to be a community newspaper. "We are as local as it can get," says Editor, Geri Ferrara. "I want the honor roll, with Johnny's name highlighted, hanging on that refrigerator as much as I want the City Council to look at [our] road story and say, 'We gotta' make some changes because that road's falling apart.'" The newspaper strives to be a credible community source and a place for members of the community to air their views when no one else will listen.
Morgantown is a diverse community. It's the home of West Virginia University, enrollment, fall 2010, 29,306, according to The Dominion Post. The University offers 193 bachelor's, master's, doctoral, and professional degree programs in 15 colleges. Yet, much of Morgantown and Monongalia County, population estimated, 118,506, on Morgantown.com, is rural.
The Dominion Post's Publisher, Dave Raese, believes its readers and advertisers prefer the print edition of the newspaper, and management has made the decision to "stick with the base product." Ferrara explains that on a weekend when the Mountaineers are playing, "A car dealer knows that 100,000 may see his ad in our online edition (e-edition circulation is 1,705 – see Backgrounder), but it's the ad in the print edition that brings people in to buy a car." Raese and Ferrara agree, however, that "if their market dictates," they would offer a stronger digital product.
The Dominion Post management has taken a conservative approach to their newspaper's website: www.dominionpost.com. It offers headlines and a few sentences from the day's top stories, but the details are available only behind a paywall on the The Dominion Post's e-edition.
At present, management's concern about having a more interactive website is twofold: In this economy, they believe the newspaper can't afford a fulltime staff person to monitor it, and they worry about libel issues on an unmonitored site. Looking forward, they anticipate the newspaper might create website columns and opinion pieces with opportunities for individual feedback and interaction, but at present they believe their market is not demanding such interactive digital news products.
Check This
David Whisler, the newspaper's online coordinator, describes the diverse skills necessary for his job as a stand-alone IT manager. Geri Ferrara explains why she thinks Superman was a journalist, and Dave Raese discusses the steps the paper has had to take to cut costs.