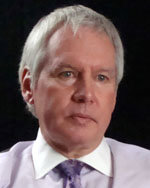 Gary Farrugia
Publisher, The Day
New London, Conn.
[CT-E 0101]
---
When I was working at The Philadelphia Inquirer, and I was on the suburban desk on the morning when a plane carrying United States Sen. John Heinz collided with a helicopter over a schoolyard – an elementary schoolyard in suburban Philadelphia. And the plane and the helicopter came down. Flaming gasoline was sprayed on the children below. It was horrific.
It happened in an area where a lot of Inquirer reporters lived. And over the course of the next 15 hours of that story – oh, the other thing was John Heinz was flying to Philadelphia to meet with the editorial board of The Philadelphia Inquirer.
So we knew immediately who was on that plane. And, because of so many people who worked at the paper lived in the area, we had access to neighbors. We had access to the parents of the children who were at the school. As luck would have it, I had a reporter in that school at that moment when the accident happened. And he watched an 8-year-old boy on fire coming into the school – in to the school. And a 58-year-old woman, Ivy Weeks, who was a volunteer reader, took that boy and embraced him in her bosom and literally snuffed the flames out of the boy – David Rutenberg – and the boy lived. And my reporter watched that happen.
So we were able to tell this story in the large sense of what a catastrophic thing this was – to lose a United States Senator. But it became a very human story about dignity and heroism. That story just resonated for weeks and weeks and weeks.
And two years later we were sitting at a focus group because we were about to launch a new zoning thing – The Inquirer was making all this noise about we were going to do this zoning – the focus group director asked one of the participants about how the paper affected him. And we were standing behind the glass screen, and we watched this.
And this man described this story that I just told. And he described the page where certain graphic information was. He said on page 6-A, they had a list of everybody who died in that, and nobody had that before.
And it was at that moment I realized that when you have journalism with a big capital-J, that it touches people in ways you can't even comprehend sometimes.